Need a vacation? With more and more people being vaccinated, travel is officially back! So if you are planning your 2021/ 2022 getaway then you are likely wondering where the best places to travel right now are?
In this post, we asked some of our travel blogger friends where they have traveled to lately and have rounded up 7 of the best places to travel in 2021 and beyond.
Mexico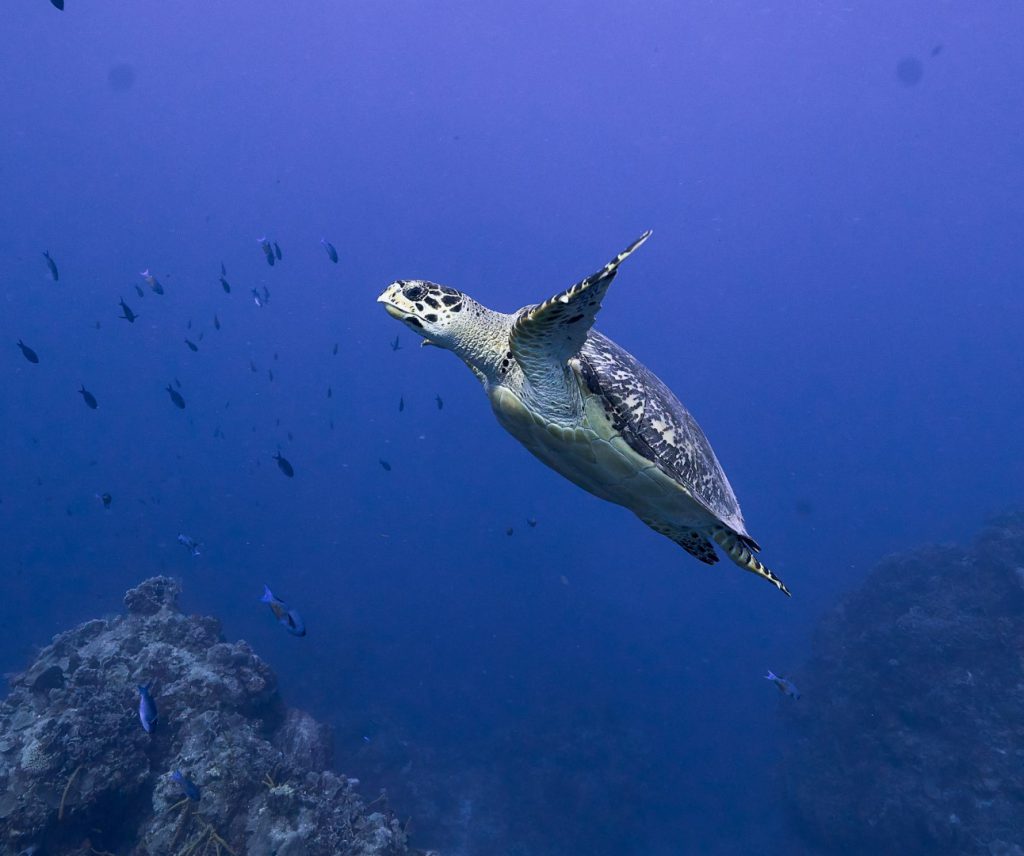 Mexico is hands down one of the best places to travel right now. During Covid, there has been no country in the world more open to tourism than Mexico. The unique combination of Mexico's economy, politics, and culture resulted in a decision to keep tourism going throughout the last twelve months. Safety precautions like masks, social distancing, and sanitizing have been implemented, enforced, and are widely accepted by Mexicans, but the country has no quarantine or Covid-testing restrictions for visitors. This mix of safety without inconvenient restrictions makes it an IDEAL place to visit during a pandemic!
Mexico offers an incredible amount of culture and natural beauty. For culture, visit Guadalajara, Jalisco, the home state of Tequila, and the capital of luchadors. You can attend a traditional Mexican wrestling match, shop for the most exquisite artisan home furnishings, or even take a train to the town of Tequila for an all-day Tequila tasting! Or check out Oaxaca, an official Pueblo Magico, which is a beautiful colonial city where you can sip Mezcal while celebrating an authentic Day of the Dead. Mexico offers incredible natural wonders as well, with almost seven thousand miles of coastline along the Pacific Ocean, Sea of Cortez, Gulf of Mexico, and the Caribbean. 
Speaking of the Caribbean, I live and operate a dive company in Cozumel, Mexico. Why Cozumel? Underrated in comparison to a lot of its Caribbean neighbors, Cozumel has extremely clear, warm water, epic scuba diving, seaweed-free beaches, and is half the price of similar spots like St. Barts or Aruba. First of all, Cozumel is situated on the second biggest coral reef in the world. The natural current brings marine life all year round, such as loggerhead turtles, sharks, and eagle rays. And the reef is just offshore! If you've never gone diving, Cozumel is a safe, affordable place to start. And unlike most Caribbean islands, we have been spared of the seaweed problem because of our leeward-facing coastline, which is protected by our uninhabited east coast.

Finally, Cozumel is a small island with the ideal combination of amenities and solitude. Downtown you can find delicious restaurants ranging from local cuisine to high-end Italian and French eateries, but you can also drive along dozens of miles of undeveloped coastline to chill on the beach in your own private paradise. The jewel of Mexico, Cozumel is kept secure by all federal military branches located on the island; it is very safe with little or no crime. So if you are looking for a place to relax on vacation, come see for yourself the unique color of the sea we call Cozumel Blue.
Adam – ScubaTony
Egypt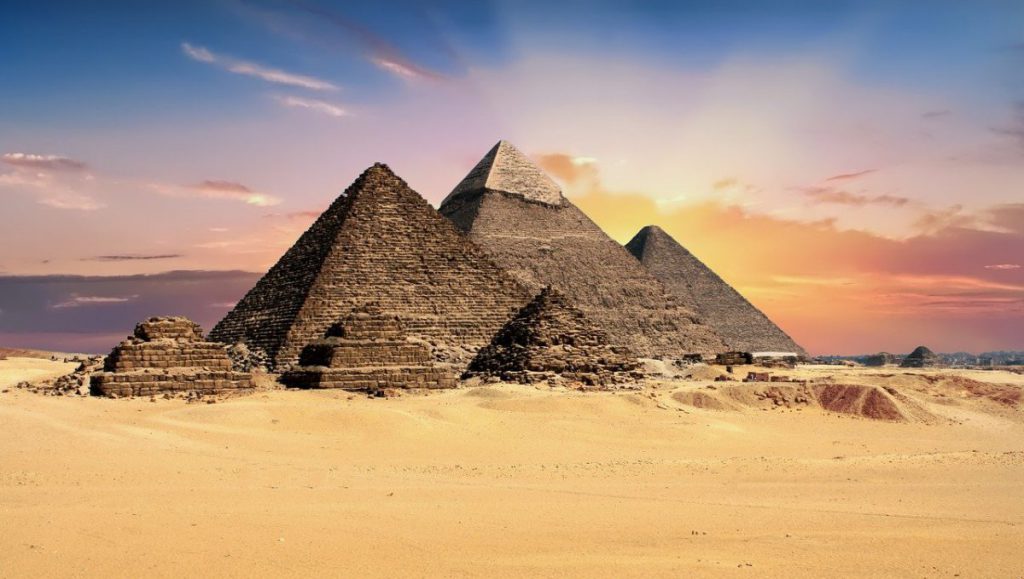 The Pyramids of Egypt, are one of the world's most recognized tourist attractions. In fact, tourists have been visiting Cairo since ancient times–Herodotus went on vacation there from Greece. But if you go right now, it will make 434 BC seem crowded. It's for this reason why Egypt is one of the best places to travel right now, there really is no better time to go.
So yes, the pandemic does have silver linings. Egypt is wide open for tourism with flights landing daily from all over the world including direct from the USA. Egyptian tourist Visas are readily granted for $25 at the airport. All you need is a COVID PCR test (taken within 96 hours if coming from North America), and you are in.
The locals are also HUNGRY for visitors, so be prepared to be welcomed by all. This country relies on tourism, and everyone is doing their best to bring back travelers. All the guides, drivers, and tour operators wear their masks and they are truly happy to see you!
Most importantly, this is a once-in-a-lifetime opportunity to explore these ancient wonders without dealing with crowds, waiting in lines, or just being around anyone at all! Those of you who like to explore beauty and history alone, quietly, at your leisure—this is the trip for you. And Egypt will never be like this again, so go now. 
In addition to delighting in deserted archaeological sites, this will make you happy: luxury hotel prices are slashed by fifty percent. Now's the chance to finally stay at the Sofitel Old Cataract Hotel in Aswan, where Winston Churchill and Princess Diana used to rest their heads. Or get a pyramid view room at the historic Mena House in Cairo for less than $200. Or better yet, sail for half price to Luxor down the Nile in the presidential suite of the Sonesta St. George cruise ship.
Whatever you do, just go! If you need a tour company help to plan your trip, we recommend Egypt Tailor Made.  Inshallah, it will be the best trip you ever took! 
Michaela Vargas
The Great Blue Hole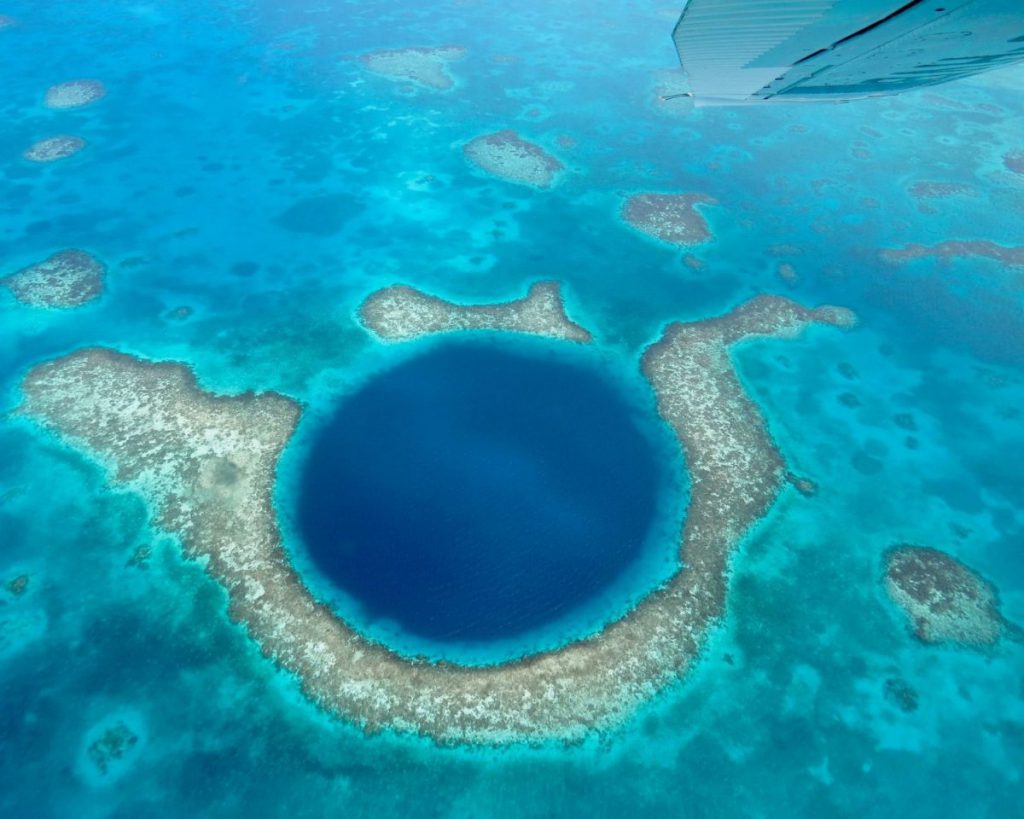 The Great Blue Hole is a huge underwater sinkhole off the coast of Belize. The circular hole is 0.07065 square km in surface area and 124 m deep. Stalactite analysis in the Great Blue Hole says that its evolution took place 153,000, 66,000, 60,000, and 15,000 years ago. It's a part of the Belize Barrier Reef Reserve System, a UNESCO World Heritage Site.
The hole was built out of solid rocks hundreds and thousands of years ago during the last ice age. French marine biologist Jacques Cousteau in his ship Calypso visited the place. He proclaimed it as one of the top 10 diving spots on the planet. The crystal-clean water is an attractive recreational spot for scuba divers.
The place was a cave before closing up with water owing to rising seawater. The surrounding reef and ecology of this place attract scientists and tourists. Flying over the Great Blue Hole while Departing from San Pedro Regional Airport is uplifting.
You can go on snorkeling tours and enjoy the pleasant sight of fresh fishes and sea creatures. Species like nurse sharks, Caribbean reef sharks, butterflyfish, angelfish, midnight parrotfish are famous here. Visit The Blue Hole Monument, one of the seven wonders of Belize's World Heritage site.
The discovery channel ranked it as the most amazing place on Earth. Another way to enjoy this spectacular view is by helicopter tour. Fly over the reef for an hour and a half and enjoy this aquatic spectacle. Unfortunately, the presence of sharks makes this place risky for inexperienced divers.
A trip from Ambergris Caye in Belize to the hole will take 3 hours, a distance of 70 km from Belize city. And 4 hours from Placencia in Southern Belize. The cost of a single-day trip is $300-350. The experience is worth the price tag.
Remember to carry your underwater cameras to capture the memories. Visit this place must be on the bucket list of every diver. Top sights in The Great Blue Hole include Half Moon Caye, Long Caye, and Northern Caye, and Sandbore Caye. 
Belize allows vaccinated travelers to enter the city without presenting a negative COVID-19 test. However, non-vaccinated travelers must provide a negative COVID-19 PCR test taken within 96 hours of travel.
They may also present a negative rapid Antigen test taken within 48 hours of travel. If the passengers cannot present either of the tests, they will perform it at the Airport for $50. People departing from Belize to other countries need a negative test result for re-entry.
Runa from www.theholidaystory.com
Bonaire, Dutch Caribbean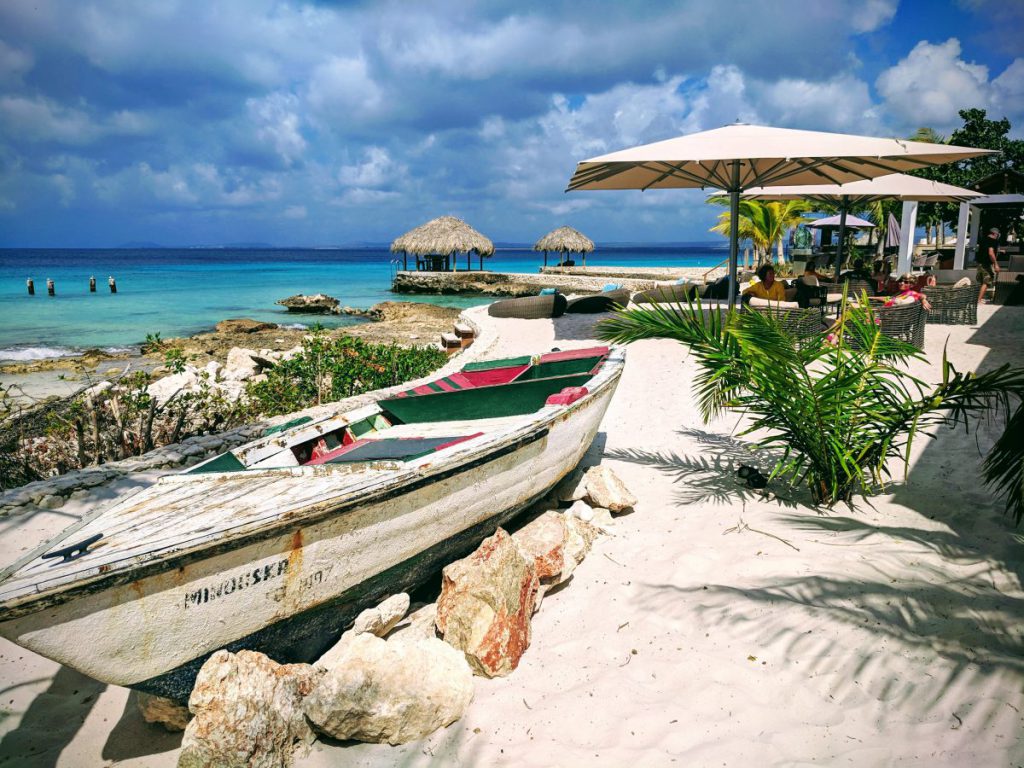 Although it's one of the world's top shore diving destinations, there are many other reasons Bonaire is one of the best places to visit now. Part of the ABC islands of the Lesser Antilles that also includes Aruba and Curacao, its natural beauty and unhurried pace make it the ideal Caribbean destination for travelers looking for an eco-friendly vacation away from the crowds.
Since 1979, much of Bonaire's coral reefs and underwater zones have been legally protected as a national marine park. It was the first Caribbean Island to designate a marine park and the island's efforts to protect nature and support sustainable tourism means you'll likely encounter some of the healthiest reefs you'll see in your lifetime. Bonaire is the world's only certified Blue Destination, a designation that recognizes the commitment to nature, culture and the economy.
Beyond the exceptional diving and snorkeling, memorable things to do on Bonaire include exploring the salt flats of Pekelmeerto, a surreal site featuring pink salt pans surrounded by crystal white pyramids made of salt. This is also a top spot to do some bird watching as flocks of wild flamingos frequent the salt pond area to feed on shrimp.
Another fun thing to do is tour the island's arid interior by tuk-tuk or jeep. Be sure to make a stop at historic Rincon Village, Bonaire's original main town. It's home to the Cadushy distillery where they produce an artisanal liqueur made from cactus. Plan to spend some time enjoying a tasting and shopping for unique souvenirs.
Another top reason to choose Bonaire for a Caribbean vacation is that it's located outside of the hurricane belt. This is important if you're planning a getaway between June 1 and November 30, the official hurricane season for the Atlantic Basin, a region that includes the Atlantic Ocean, the Caribbean Sea, and the Gulf of Mexico.
When planning a vacation on Bonaire, it's important to note that it, along with Saba and Sint Eustatius, are part of the Netherlands and subject to European protocols. This means all visitors to Bonaire must complete a health declaration (download it here). Whether you travel by air or boat, if you're coming from a country where the risk of contracting COVID-19 is low (See the list of Safe countries and regions within and without the EU/Schengen area), you don't need to show a negative NAAT (PCR test) result collected no more than 72 hours before arrival, or self-quarantine when you arrive in Bonaire. These protocols change frequently so check before making travel plans.
Michele of A Taste for Travel
Amsterdam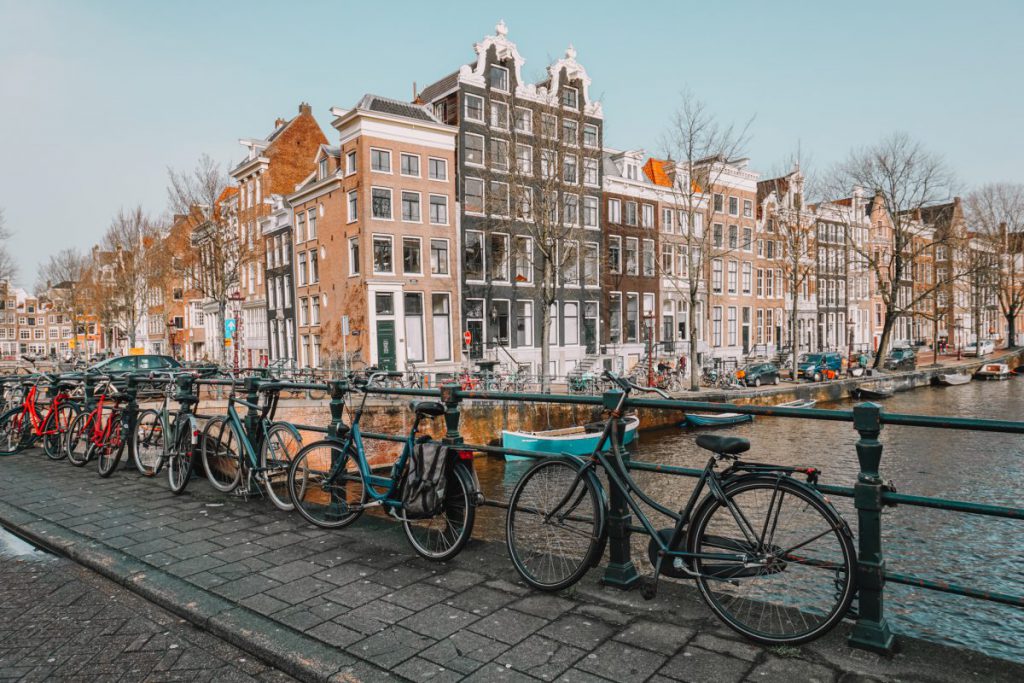 With everything going on, finding places to travel to that are open to tourists and have few restrictions can be a bit of a challenge. However, with the rollout of vaccinations more and more countries are slowly starting to open up their borders, loosen their restrictions, and welcome back tourists from various parts of the world. One of these countries that is a great place to visit right now is Amsterdam.

Amsterdam is almost back to normal with cafes and restaurants open both inside and outside, museums open, and hotels and flights getting back to normal. The best thing about visiting Amsterdam right now is the atmosphere! The entire city is buzzing with excitement and the streets, cafes, canals, are all full of people celebrating the end of lockdown and a new welcoming of beginnings.

You will find in Amsterdam you can do almost anything you want with a few exceptions. For example, if you want to rent a boat you can only have people from 2 households and not more. Restaurants also only allow smaller groups unless you are from the same household. However, as a traveler, you are likely visiting with yourself and maybe one or two others so there should be no problems with this.

As for the safety measures in Amsterdam. You must wear a mask in grocery stores, shops, restaurants (when going inside), and public transport. Other than that there are no requirements. Every day more and more of the population is getting vaccinated, however, the Netherlands is behind other countries and the amount of vaccinated people is less. Just be sure to stay 1.5 meters away from other people, avoid shaking hands, and wash your hands regularly. By autumn in Amsterdam, most restrictions will be lifted.

To arrive in Amsterdam you need to be arriving from one of the countries designated "low-risk countries" and take a PCR test taken no longer than 72 hours before arrival plus a quick test taken 24 hours before. The rules depend on the country you are arriving from and change daily. It is advised to continually check the government websites for updates and changes so you can adapt. 
Sam from Sam Sees World
Greece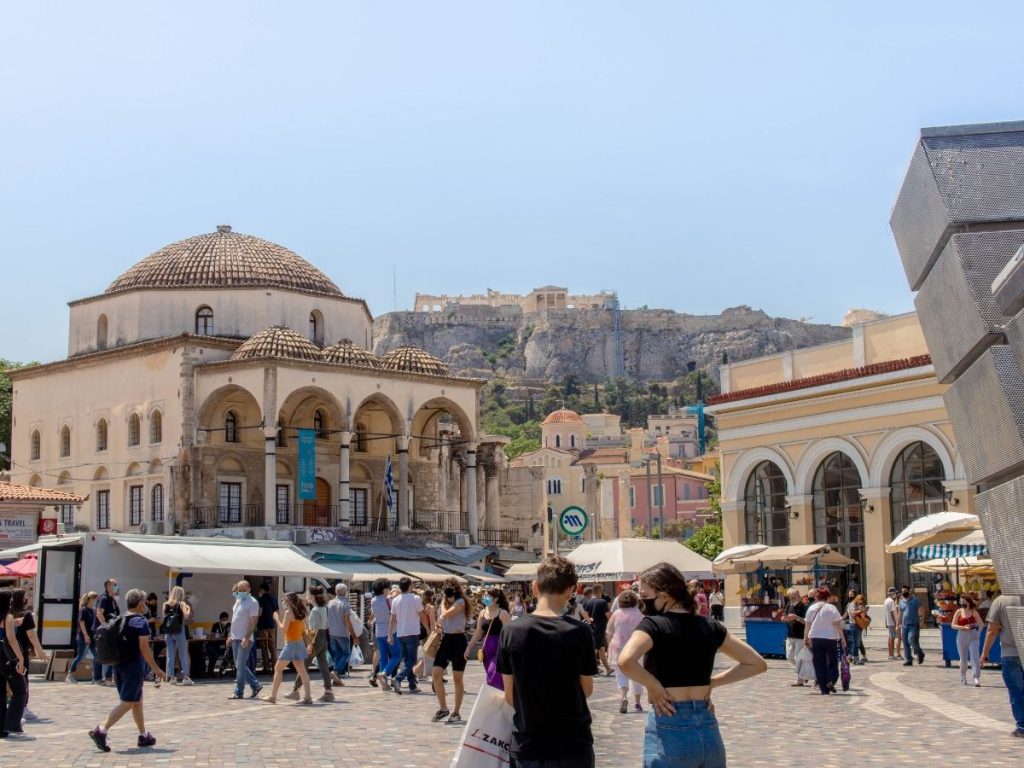 After a long wait after a corona hit the whole world, Greece is now opening up again for travelers from all around the world. Greece has been a famous tourist destination for years and right now might be the best time to seek all the ancient history, cruise between Greek islands, or just have the proper vacation. Well because traveling isn't fully opened yet, so you have fewer crowds as it was before covid times and probably would be already next year.
Greece lives for tourism and it's for a reason, because of so many beautiful landmarks and things to do. For example, there are so many places to see in Athens. You have much more space to see all the ancient archaeological sites like the Acropolis, Kerameikos, and Ancient Agora of Athens. Also, it's the best place to taste different kinds of Greek cuisine like Greek Salad, Baklava, Moussaka, Souvlaki.
Another thing that Greece is known for it's their endless islands. Scenic islands like Santorini, Mykonos, Paros, Milos, or Crete are some of the many popular Greek islands. The main reason why it can be the best summer to visit these charming places is that it's not so overcrowded as it normally should be.
Even though it's not the cheapest country in Europe, it's relatively affordable in terms of the ratio between quality and price. Even Greece has reduced a bit of taxes to get tourism a kick start. Greek people are super nice, warm and they have excellent service because again, tourism is in their veins.
Currently, there are still pretty strict restrictions, for example, you need to wear masks everywhere in public areas, even outside. Greece is taking it seriously, that visitors have the healthiest experience in their country.
Before heading to Greece you have to have either proof of vaccination or PCR test or proof that you have been COVID positive in the past 2 to 9 months (antibodies). Also, you need to fill up a PLF test at least a day before arriving in Greece. All the information about updated travel restrictions, information about the current situation in Greece, and which countries you can travel there is found in the Protocol for Arrivals in Greece.
In conclusion, this summer can be the most unique and quieter period to visit Greece and its beauty. All the locals who have been waiting for tourists for two years and are extra welcoming and will treat travelers more than enough.
Erki from Genem Travels
Florida, USA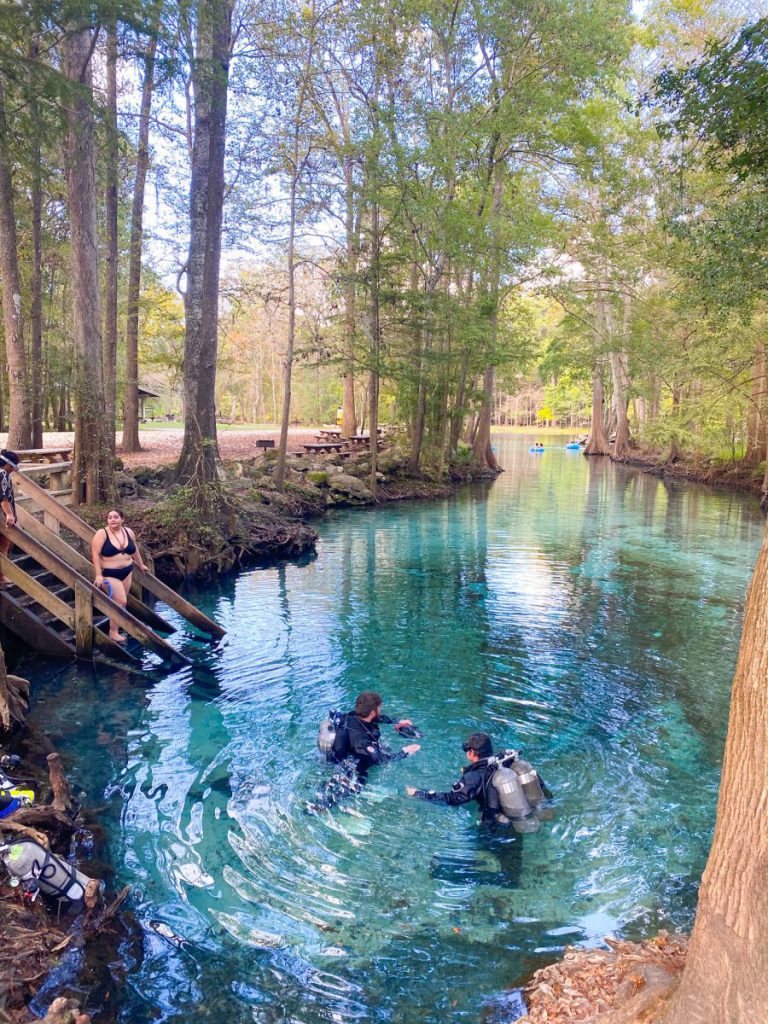 Florida is one of the best places to travel right now! Florida often gets a bad rap in the media, and for a good reason, but there is WAY more to the state than South Beach and partying!!!
Florida has so much to offer! Some of the best things to do in Florida are outdoors and away from others. One of the best things to do is go scuba diving in Florida! You can choose from the many freshwater springs [there are thousands] the islands down in the keys, shipwrecks off the coast and more!
One of our favorite suggestions is Ginnie Springs which has crystal clear water and an intricate caving system for cave-certified divers!
If you are looking for cities to visit, historic Saint Augustine is one of the oldest cities in the USA and offers great foodie and historical culture! The museums in Saint Augustine and interesting to visit and if you love ghost tours, the city is one of the most haunted in Florida.
If you want to visit the Florida Keys, you can road trip from Miami to Key West and stop for diving, key lime pie, tours and more! Make sure to visit the Dry Tortugas while you are there, as it is one of the most remote National Parks in the USA and offers pristine waters and history all bundled into one.
Florida is not just about the theme parks. There is food, diving and snorkeling, kayaking, smaller cities, history and more just waiting to be explored! Floridians are welcoming and ready to host you!
Victoria from Follow Me Away