Many of you that have dove here have at least heard of the epic dive that is Devil's Throat Cozumel. For those of you who have not, here are some things you should know about one of the most notorious dives in Cozumel.
Devil's Throat Cozumel
Level: Advanced +
Max depth: 130ft ( 39 m)
Visibility: 100+
Highlights: Long deep dark swim-throughs
Devil's Throat is a right of passage for many divers.
But not everyone gets to dive it. And for a good reason.
It is a very advanced dive in Cozumel, and we don't take divers there unless we know they can do it safely.
Just presenting an Advanced Open Water Certification is not enough. At Scuba Tony we are a safe dive operation in Cozumel and need to see you dive before we even think about taking you here. We need to be confident that you are a solid diver, with both air consumption and skills.
Devil's throat is not for the faint of heart, and we won't take anyone there that is not completely confident down there.
Now that we have made that part clear, for those of you reading that that do qualify and decide to dive Devil's Throat in Cozumel with us will be rewarded with one of the best dives in Cozumel. Fact!
It is that good down there, that even if you didn't see a single fish, you would still be blown away just by the incredible coral formations and spectacular vistas over the wall.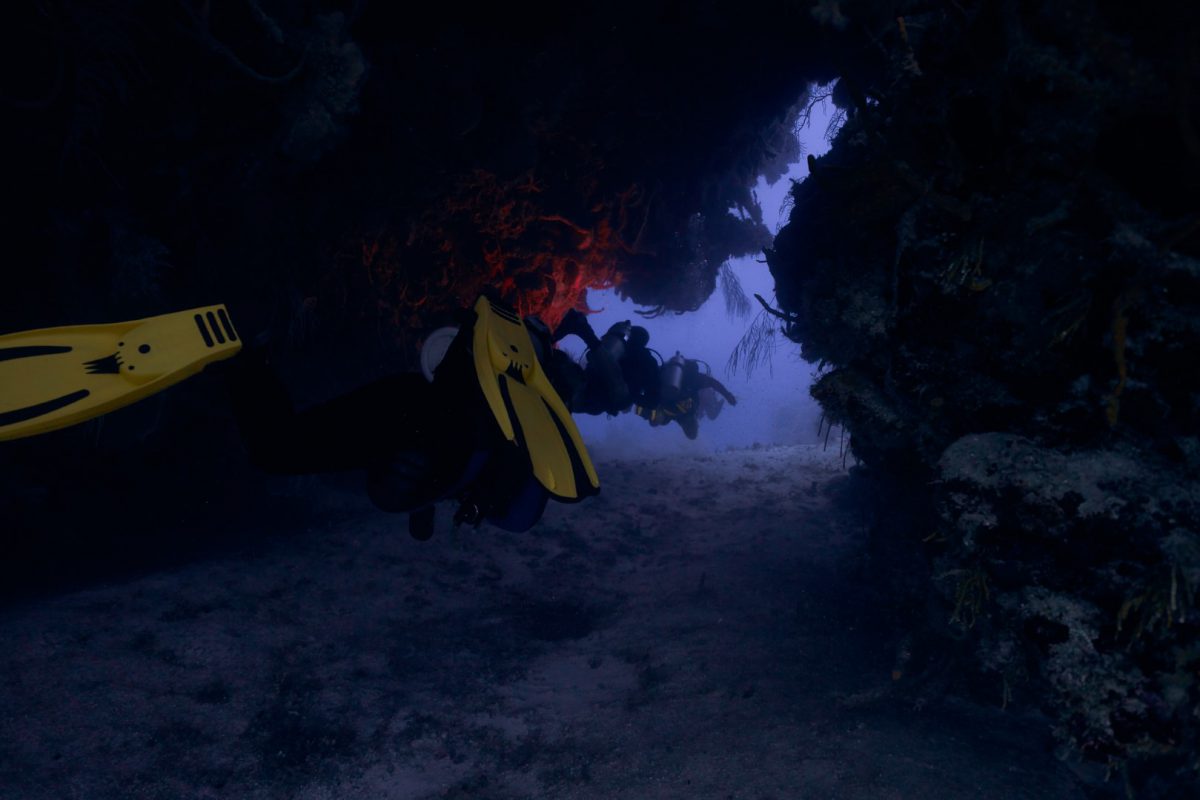 Where is Devil's Throat?
Devil's Throat is just off the coast of Cozumel in Mexico, at the northernmost part of Punta Sur.
What is Devil's Throat?
Devil's Throat is a massive coral head which is a bit like swiss cheese! With the most epic swim through you can imagine.
What does the Devil's Throat Cozumel dive entail?
At 83 ft you will enter the swim through that we call the Foyer. The Foyer is a large room with glassy sweepers and a sandy bottom.
From here you will go up into the darkness to start the legendary swim through.
It gets darker and darker to the point you can barely see the divemaster or diver in front of you.
But just at the point that you start to freak out, you see a beautiful blue light ahead.
The throat itself is a vertical drop down to a sandy bottom tunnel that runs the rest of the way to the wall. You will pop out into the light off the edge of an endless drop off at 135ft.
If you do not get too narced, it's exhilarating as hell. If you are narced, it's time to check your air and start ascending.

The Rest of the Dive
From there we usually do a series of other swim-throughs in and around the throat until we start pushing our NDL or are low on air.
Then we head up for our safety stop.
Bottom times are usually a little shorter on this dive because people get so excited they forget to relax and breathe easy…
Are You Ready to Take on Devil's Throat?
Do you think you're ready to take on this epic dive?
Well, it's time to book your dive and then speak to one of our divemasters about the throat and see if they think you are up for it.
Don't be too put out if they don't think you are quite ready, just ask then what you can do to improve your skills, then get in as much bottom time as you can while Diving in Cozumel.
This is a dive you don't want to miss, but at the same time, all of the stars must align for us to go there. Don't forget when you are sharing a boat we have to take into consideration all of the other divers on the boat. They are going to need to want to do it and be capable of it. It's also going to depend on the sea conditions that day, they need to be just right as well.
Don't want to have to rely on others? Well, there is a simple solution to this, get your buddies together and charter a boat with us. I'd say the most common issue we have on normal dives is that we aren't able to go as there is someone on the shared boat that hasn't been assessed, or they aren't up for the dive.
Any questions, just reach out and ask.