Are you wondering where you can find the best desserts in Cozumel? Well, we have no shortage of sweets here for you and your sweetheart. This article will help you get that sugar fix in, STAT!  So once you have had your fill in the best restaurants in Cozumel, it's time for dessert, in no particular order here are a few places that we think have the best desserts in Cozumel.
Rock'n Java
Open for more than a quarter-century, Rock'n Java is known throughout the island for its great breakfasts, but a lot of people don't know that they have a wide selection of amazing desserts. Made from scratch and baked daily, they offer cheesecakes, pies, and cakes, including my favorite, their carrot cake with cream cheese icing. 
They also have a hot fudge brownie sundae a la mode (tip: ask for an extra scoop of vanilla ice cream on top!). Or try their tasty specialty coffee drinks like the Chocolate Vanilla Bang!
If you are exploring the downtown of Cozumel and want to finish your night with the best selection of pies, cakes, and pastries in the Caribbean, Rock'n Java is your place! A short 5 min walk from the ferry, they are located right on the waterfront across the street from the MEGA. Open daily from 8 am-11 pm.
Sucré Salé
More sugary delights can be found at this authentic French cafe, owned by French pastry chef Guillaume and his wife Paula. You'll meet them along with their son Sam, serving up delectable French pastries, cookies, crepes, and pies.
Sucré Salé not only has some of the best desserts in Cozumel, but it also has a wonderfully easy-to-find location, just a five-minute walk from the ferry on Calle 2 between 5th and 10th avenue. They are open from 8 am – 10 pm Monday through Saturday, and 10 am – 1 pm on Sunday. 

Coffee Cozumel
As soon as you walk into Coffee Cozumel you can smell the richness of their bakery. Enjoy these tempting desserts in a mellow, relaxing ambiance, with air conditioning!  Their menu seems to just keep going and going. From yummy Mexican desserts to an apple pie as good as your Grandma's, you can also nibble on their chilled desserts (like a slice of cheesecake) to refresh you on a hot afternoon. Take it from us, they really do have some of the best desserts in Cozumel.
Coffee Cozumel has a very central location: when getting off the ferry you take a right and walk 2 blocks to Calle 3. It's the third shop on the right side, next to Pizza Hut and Thirsty Cougar. They are open all day from 8 am – 10 pm. Enjoy!
Banana & Company
Banana & Company is a hidden gem with a tasty menu to match! Come enjoy the Cozumel breeze and dive into a number of different types of sweets, like mouth-watering red velvet cake, apple crumble, coconut cream pie, or their classic banana cake.
Located at Punta Langosta, a lovely little shopping center a few blocks from the ferry and located right on the main drag of Melgar Avenue, Banana & Company is especially convenient if you arrive by cruise ship. Banana & Company is open from 8 am – 9 pm.
The Churro Man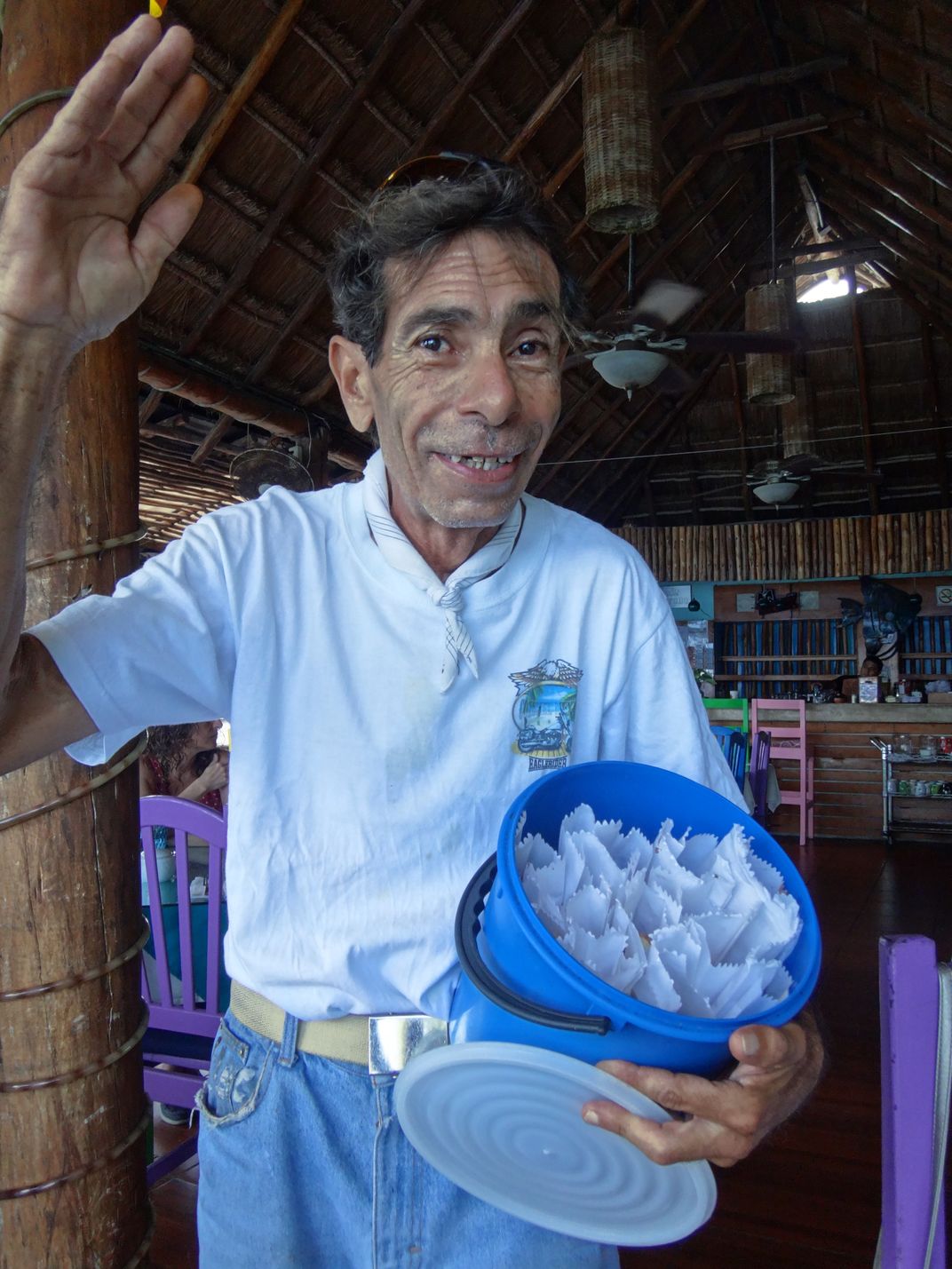 So you want something a little more local and authentic? Well, there's nothing more truly Cozumeleño than buying a churro off the famous Churro Man Javier is a local treasure who rides his bike down the Malecon selling churros every day. Inexpensive and easy to eat, a churro at the beach hits the spot! The best spot to find the churro man is across the street from Villa Blanca Hotel at one of the beach clubs like La Palapita, in the late afternoon. 
So besides the obligatory margarita and taco while you are here, we hope you find some time to enjoy something sweet on the island thanks to this list of best desserts in Cozumel!
Thank you so much for visiting www.scubatony.com