There is no shortage of restaurants to choose from when you're in Cozumel. From street tacos to lamb chops paired with a Brunello, Cozumel has you covered. Whether you are new to the island and looking for some recommendations, or you want to try somewhere new. This is my list of recommended best restaurants in Cozumel.
I've split this list of best Cozumel restaurants into sections so you can easily find what you are looking for. Also if you don't want to go out we have a great Cozumel food delivery service called Room Service. You can send them a message on WhatsApp and they will bring you pretty much anything you want. Now, how's that for service! Room Service at +52-1-987-111-0756
The Best Cozumel Resturants for Breakfast
Cozumel's newest breakfast hotspot. The atmosphere is modern and chic. They opened in October and for a new restaurant, they are staying quite busy. They have specialty coffees and offer coffee made from a syphon right at your table. They are located on 6 between Melgar and 5.  They are open Tuesday-Sunday from 9-5. Everything on the menu is great! I've had Eggs Benedict, Waffles, Ricotta pancakes, Croque Madam, Egg bowl and the Mole Enchiladas and they have all been wonderful. I love the vibe they have going on there. Definitely check them out when you are in town.
Located on 10 and 2 they have one of the best breakfasts on the Island (in fact they have great food at any time of the day). I especially recommend trying some of the local dishes such as their Mayan huevos motulenos (fried Yucatecan tortilla with black refried beans and a fried egg on top with a tomato sauce) or the Mexican breakfast of enfrijoladas (corn tortillas dipped in beans, served with cheese and cream). I always order it with chicken and 2 eggs on top.
Located on Melgar across from the Mega this place is always busy. It's especially popular with local expats and the crew from the cruise ships because of how close it is to Punta Langosta. The staff are always welcoming, they have a menu in English and Spanish and everyone in there speaks perfect English. It has a casual vibe, ocean views, and refillable coffee… on and the breakfasts are pretty good too. It's a little on the pricy side for Cozumel, but it's worth the extra money for the service and they're super-fast WiFi (something rare on the island).
On Sundays, they have really good eggs benedict. I also recommend Johnny Lees Cowboy breakfast for the biscuits and gravy fans out there. If you like your coffees a bit more fancy that your average cup of Joe then they have delicious specialty coffees like the vanilla or the chocolate bang. Oh and don't skip dessert if you come here in the evening. I like the ice cream brownie Sunday.
Located just a little further along from Rock'n'Jarva you will find Jeanies. I'm not going to lie, it really isn't the best food on the Island, but when you see the view that alone makes up for any culinary shortfalls. Here you can eat on the beach, it's also pretty cheap and has a local vibe.
El Maple actually has 2 locations although most people go to the one on 5 and 6 just north of the downtown plaza. It's small and cozy, they only have 5 tables inside and 2 outside. So if you go during peak time you may have to get it to go or share a table with someone. It's the only artisanal bakery on the island and they have Nutella filled croissants and delicious cinnamon rolls. The coffee is pretty decent and the wif is ok.
This is my go-to coffee place in Cozumel. They have the best coffee and don't even get me started on the sweet stuff. The staff are always really friendly, plus they don't mind me sitting there for a few hours catching up on ScubaTony work. In fact, they even have plug sockets close to many of the tables so it' easy to plug in and work. They have a good selection on their breakfast menu (served until 1 pm) I normally just grab a croissant and a cappuccino.
Budget Cozumel Mexico Restaurants
If you are looking for a place to get some budget eats in Cozumel then you my friend need some tacos in your life. There are three places you should have on your radar on your quest for the best tacos in Cozumel.
In general, I have a rule when looking for a good place to eat tacos, only eat at place with plastic tables and chairs… That's generally how you know that you are eating in a local place. If you are sat at a fancy table and chairs you are probably in a more of a tourist-focused place and you will pay a lot more for your taco, and they likely won't be that authentic. Most of the places on this list are on the outskirts of town and popular with locals and tourists looking for authentic tacos.
Diego's is the place to go if you want fish tacos. It's very casual and close to the airport which makes it a firm favorite with a lot of people who quite literally get off the plane and head directly here for their taco fix. Diego's Tacos is open from 9-5 pm Monday through Saturday, check out ther specials board and order a lemonade (it's really good).
Tacos al Pastor is a firm favorite of any Mexican diet. If you have never tasted them before then you really need to book a date at Mr Taco. You will be able to spot the al pastor meat as it looks like a Turkish kabab. It actually has an interesting heritage as it comes from when a wave of Lebanese migrants came to Central America in the late 19th century. In true Mexican style, there was a merge of cultures and Tacos al Pastor was born.
It's spiced pork meat, served with a slice of pineapple. You can buy them at pretty much every taco stand, however, once you have tasted the Mr. Tacos al pastor tacos, they will ruin all others for you, they are that good. You will find My Taco on transversal, so it is a little bit out of town, but totally worth the distance. It is very casual with a local atmosphere and you will pay local prices here.
Cuarto Taco is downtown on 3 and 5. It's much closer if you don't want to travel out to Mr Taco, but you are going to pay 'tourist' prices here. Their fish tacos are great as are the choriqueso tacos. It's a pretty casual place, although its a bit more hip and less casual.
Another favorite of mine is Los Sera's on 30 and Morelos (a street that's between 3 and 5). Here you will find a local vibe and it's very casual. Excellent pastor tacos. If you feel like being adventurous, they sell pastor pizza as well.
Blow the Budget
If you are on vacation here you need to blow the budget at least once. Despite it being a small island, like the rest of the Riviera Maya Cozumel has some pretty amazing options for fine dining. Here are just a few of my favorites. If you don't want to eat out check out this post we wrote about the private chefs of Cozumel.
Top of my list of restaurants for a nice meal in Cozumel is Buccanos at night. They have some of the best food in Cozumel, a good wine menu, great service, and the ambiance is always pretty special. Plus the ocean view really is spectacular as the sun goes down.
They specialize in seafood and offer a weekly appetizer, mains, and dessert specials alongside their usual menu. If you aren't into seafood they also have a very good steak or burger. You must have a reservation here as it often gets full, especially during peak season. You will find it on the North Side of the island and it is closed on Mondays and Tuesdays and for the whole month of October.
Shii Fu
Right next door to Buccanos you will find Shii Fu an Asian Fusion restaurant that only opened in 2019. It is the same owners and created and operated to the same high standards. Be sure to try one of their artisan cocktails.
https://www.instagram.com/p/B0ttINdHbgF/
Alfredo Di Roma Trattoria
Located in Presidente Hotel in the South end of town by the marina Alfredo De Roma Trattoria is an Italian restaurant with excellent food and wine. To go along with that the service is also very good and I'm always appreciative of the ambiance in here. Make sure you reserve your table and if you need a recommendation I almost always go for the lamb chops.
La Cocay
Just north of the plaza, you will find La Cocay. It's another Italian restaurant with excellent food and service. They are well known for their great steak, seafood specials, and their specialty pizzas. If you have more than 4 in your party it's worth making a reservation as it can get busy.
The Best Burger in Cozumel
You may be in Mexico, but sometimes you just need a good burger! There are three places I recommend getting your burger fix (and no there is no Macdonalds in Cozumel, you have to go to Playa del Carmen for that).
Caribe Burger
They don't have 5* trip advisor reviews on TripAdvisor for no reason. It's just a small place with a local vibe away from the main tourist area, but close enough to walk to. The burgers are great, as are the onion rings.
https://www.instagram.com/p/BuzGFMMnRAw/
A&D Kitchen
One of my favorite places to go for American and Canadian style food. They have great burgers, pulled port sandwiches, BBQ specials and of course poutine. It's an outdoor restaurant with a friendly and welcoming atmosphere. They have board games and good cocktails. All around they have a good thing going.
Pancho Burger
Located just across the street from Westin on the Northside of the island. Their secret weapon is the coconut shake. Seriously, forget about the burger, just go there and order the coconut shake. Then go back the next day because the coconut shake is all you think about… no? Just me? Of their burgers are good to…
Pizza in Cozumel
You will find no shortage of places to buy Pizza in Cozumel, but there are only 3 places I'd recommend for you to go. These places have the best pizza on the island. So forget Dominos or Pizza hut and hit one of these up instead.
Jack's Pizzeria
If you have a craving for New York-style pizza while here in Mexico the only place to go is Jack's Pizza located on Melgar by Hooters and Starbucks. Yup that right, smack bang in cruise port tourist town. Trust me though, it's worth it. One small thing though. DO NOT EAT IT BY THE SLICE! Seriously, don't do it! The only way to eat here is to order a whole pizza. In fact, don't even go there, give Room Service a call and get them to deliver it to you in the comfort of your home/ hotel/ apartment.
Punta Sur Cerveceria
They brew their own beer and make excellent specialty personal pizzas in their wood oven. Need I say any more? Beer and pizza. I highly recommend trying the Lionfish Pizza, it's delicious.
https://www.facebook.com/CerveceriaPuntaSur/photos/a.1431050363581041/2075209609165110/?type=3&theater
Cozumel Healthy Eats
La Cuisine
Located on 11 and 5, Northeast of Mega if you are looking for a healthy option for breakfast or lunch this should be top of your list. They have options for meat-eaters, vegetarians, and vegans. Need something gluten-free? No problem. The food is fresh and delicious and the price is very reasonable. Be sure to order one of their juices and take a browse in their shop before you leave, they have great locally produced products here.
Cali Cafe
If you are a vegan in Cozumel, or just like to eat vegan every now and again I highly recommend Cali Cafe. It's a 100% vegan menu and the couple that own it are really lovely. I'm a creature of habit and I normally split the Thai lettuce wraps with someone to start then either order one of their burgers, or a hot dog. They open at 10 am for breakfast (order the pancakes), and its super chilled out with solid wifi. Order a soy latte and a lemon and ginger to drink.
https://www.facebook.com/calicafecozumel/photos/rpp.135940957090194/395053797845574/?type=3&theater
Local favorites
La Conchita del Caribe
If you want to know where the locals go to eat the best fish on the island then it's here at La Cochinita del Caribe. It closes at 9 pm and it is a popular place to come for a late lunch or early dinner. Weekends it can get very busy, but my 8:30 pm you will be dining alone. Oder the whole fried fish. This restaurant is a little out of the way so you will need transport to get here, it's worth the extra effort.
Las Palmas
Las Palmas is a place in central Cozumel where you can get a good Mexican meal for a cheap price. They always have good specials but failing that you can't go wrong with the shrimp.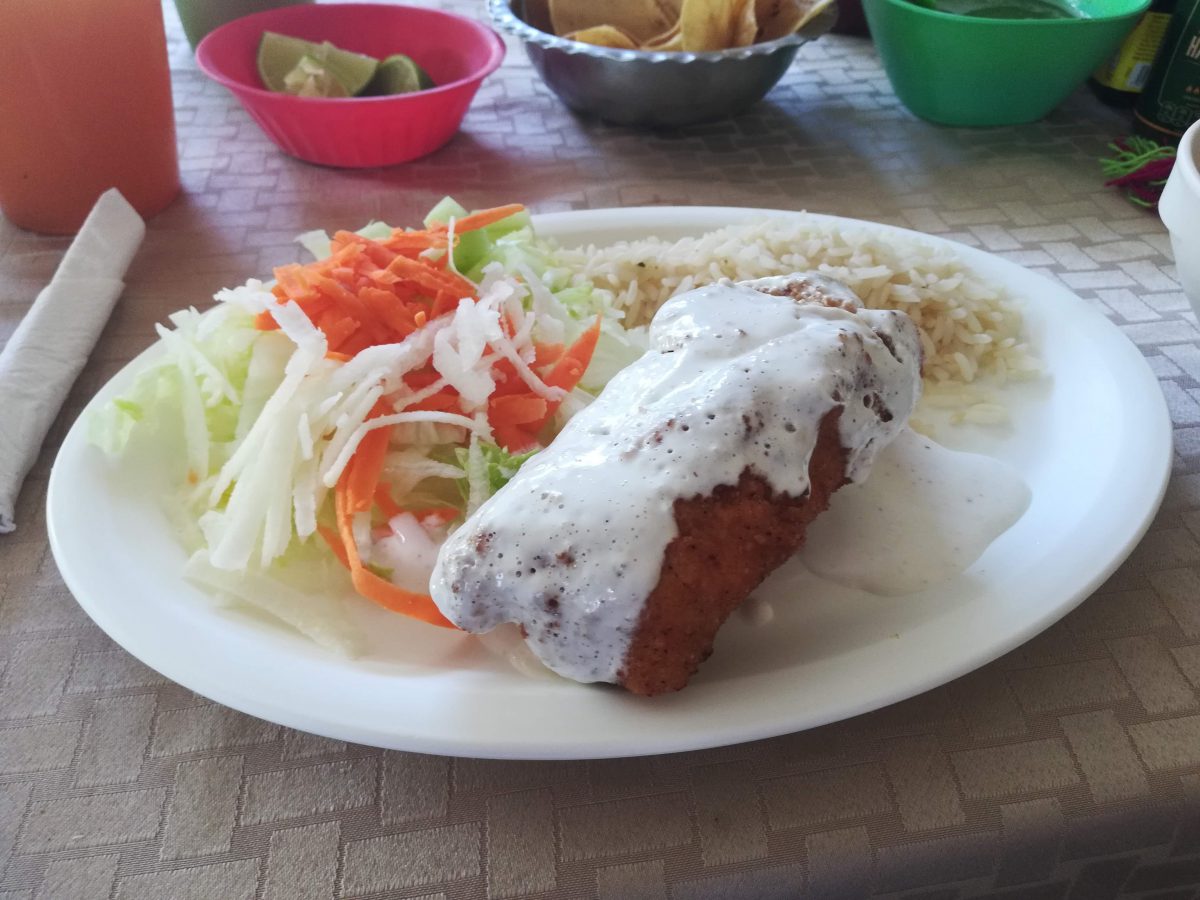 Chilangos
Serving up good honest Mexican food at great prices. Chilangos is popular with locals and foreigners alike. The staff are friendly, they have wifi, and it's not too far out of the center, especially if you have a bike or you have rented a car.
Perlitas
This is a pretty popular place with both tourists and locals. Every Thursday you can get the lionfish on a 241 special.
Italian Resturants in Cozumel
If you have a craving for Italian food then there is plenty of options to choose from in Cozumel. The Riviera Maya has a large Italian community and lucky for us they love sharing their food with us here in Mexico.
La Cucina Italiana
First up is La Cucina Italiana, it's a buffet-style Italian restaurant and makes a great lunch option. Especially if you are trying to get a bite in before your afternoon dive.
K'ooben Laab
If you want to take your Italian dining experience up a notch then head to K'ooben Lab. Everything here is super fresh, homemade pasta, bread, the mozzarella.
New Espacias
New Espacias is a great option for an nice authentic Italian evening meal. All of their pasta is homemade, the chef is Italian, and it is always worth checking out the specials menu. New Espacias is well known for its seafood, especially the lionfish. They also have gluten-free and vegan options.
https://www.facebook.com/NewEspecias/photos/a.127281064093063/1409309575890199/?type=3&theater
Sports Bars in Cozumel
I can't say that I'm a big fan of any of these places. But if you are looking for a sports bar to chow down on some fast food while watching the game then
Casa Cuzamil has a good breakfast, Kelly's is a good option, or if you want to liven things up a bit then No Name Bar is a crew bar right on the ocean. There is always music playing and you can use their pool and swim in the sea. It's a crew bar so it's always pretty lively when there are ships in. I don't think much of the food in any of these places, but the beer is always cold.
Indian food in Cozumel
If you are looking for an Indian restaurant in Cozumel then there is just one option, Bindiya. The restaurant is situated on 20 avenue Sur between Calle 3 and Calle Dr. Adolfo. If you have a mixed group of meat-eaters and vegetarians then this is a great option, they also have vegan options too, just let them know. The food is good, the prices are fair, and the portions are more than generous. Order the roganash.
Other places worth mentioning
There are just a few more places worth mentioning on this best restaurants Cozumel list if you are looking for best places to eat in Cozumel. These don't quite fit into any other category but are 100% worth checking out.
Crazy King Burrito – order the steak burrito.
Chocolateria Isla Bella – This is not your average chocolate shop. They are an artisanal Chocolateria who work with cacao farmers to bring you the best quality Mexican chocolate.