There is no shortage of restaurants to choose from when you're in Cozumel. From street tacos to lamb chops paired with a Brunello, Cozumel has a lot of options. Whether you are new to the island and looking for some recommendations, or you are a local and want to try somewhere new. This is my list of the best restaurants in Cozumel.
Also, have a look at some of our related articles:
I've split this list of best Cozumel restaurants into sections so you can easily find what you are looking for. Also if you don't want to go out, we have a great Cozumel food delivery service called FASTY. You can send them a message on WhatsApp and they will bring you pretty much anything from the best restaurants in Cozumel. Now, how's that for room service! Fasty at +52-1-987-800-9480
My Favorite Restaurant in Cozumel
Buccanos At night
Hands down one of the best dining options in Cozumel. An incredible atmosphere in a beautiful location on the beach next to their historic hotel that has been left abandoned since hurricane Wilma.
They have weekly appetizer, entre, and dessert specials that keep the menu fresh and evolving. Their wine list is comprehensive and chosen with care.
Their service is exceptional, hands down my favorite restaurant on the island, and a must-try while you visit Cozumel.
The Best Cozumel Restaurants for Breakfast

When you are visiting an island in the Caribbean, you probably want to be near the water. One of the best restaurants in Cozumel for breakfast on the water is La Monina. Try their Huevos Xcatic for a twist on the regular eggs benedict. It's similar to a pablano-flavored sauce vs. the hollandaise. It's not spicy, and I fall asleep thinking about it.
La Cuisine is a healthy option for breakfast in Cozumel. You can get cold-pressed juices, smoothies, or mushroom coffees. They have something for everyone. Whether it's one of their original scrambled egg dishes, pancakes, quesadillas, or the classic Mexican dish – Chilaquiles. Don't sleep on La Cuisine for breakfast or for lunch. They are located near the Mega next to EGO gym. La Cuisine is definitely one of the best restaurants in Cozumel
Located on 10 and 2, they have one of the best breakfasts on the Island (in fact, they have great food at any time of the day). I recommend trying some local dishes such as their Mayan huevos motulenos (fried Yucatecan tortilla with black refried beans and a fried egg on top with a tomato sauce) or the Mexican breakfast enfrijoladas (corn tortillas dipped in beans, served with cheese and cream). I always order it with chicken and 2 eggs on top.
Located on Melgar across from the Mega, this place is always busy. It's especially popular with local ex-pats and the crew from the cruise ships because of how close it is to Punta Langosta. The staff is always welcoming, they have a menu in English and Spanish, and everyone speaks perfect English. It has a casual vibe, ocean views, and refillable coffee.
On Sundays, they have delicious eggs benedict. I also recommend Johnny Lees Cowboy breakfast for the biscuits and gravy fans. If you like your coffees a bit more fancy than your average cup of Joe, they have delicious specialty coffees like vanilla or chocolate bang (sweet-tooth). Oh, and don't skip dessert if you come here in the evening. I like the ice cream brownie Sunday, although I'm trying my best to cut back.
New! Isla Cafe opened recently and has been really busy. I've eaten there a handful of times and enjoy the laid-back atmosphere and especially sitting outside in the garden. Everything there has been delicious. The coffees are great and all the food has been exceptional.
El Maple actually has 2 locations although most people go to the one on 5 and 6 just north of the downtown plaza. It's small and cozy, they only have 5 tables inside and 2 outside. So if you go during peak time you may have to get it to go or share a table with someone. It's the only artisanal bakery on the island and they have Nutella-filled croissants and delicious cinnamon rolls. The coffee is pretty decent and the wifi is ok.
This is my go-to coffee place in Cozumel. They have the best coffee and don't even get me started on the sweet stuff. The staff is always really friendly, plus they don't mind me sitting there for a few hours catching up on ScubaTony work. In fact, they even have plug sockets close to many of the tables so it' easy to plug in and work. They have a good selection on their breakfast menu (served until 1 pm) I normally just grab a croissant and a cappuccino.
Jolly Late Breakfast
Jolly Late Breakfast is another newish and very trendy breakfast establishment in the downtown area. They closed during the pandemic and RE-OPENED AGAIN! Which made me so happy! They are such a unique place. Serving excellent coffees and they probably have the best waffle in Cozumel.
Budget Cozumel Mexico Restaurants
If you are looking for a place to get some budget eats in Cozumel then you my friend need some tacos in your life. Check out our Best Tacos in Cozumel article.
I don't want to focus too much on Tacos here because there are other local places that can be highlighted for some delicious cheap eats.
Tacos al Pastor is a firm favorite of any Mexican diet. If you have never tasted pastor tacos, then you really need to have a stop at Mister Taco. You will be able to spot the al pastor meat as it looks like a Turkish kabab. Mister Taco is a Taqueria and you can get pretty much any taco here and it's cheap!
Crazy King Burrito
Crazy King Burrito has two locations. One is downtown located on the corner of 5 and 4. North of the plaza. The other one is located on the East edge of Corpus Christi on the corner of 30 and 15 (Xel-Ha).
They have some great burritos but the one that has kept me coming back over and over again is the Asada (steak) burrito. I always ask for it extra crispy. Go get one after a morning dive, it hits the spot!
This is my go-to Italian restaurant. It's so GOOD! Everything is made from scratch and it's very affordable! The daily breads they make are unbelievable. They also have this great menu that is like a spreadsheet where one side lists all the different types of pasta and the other lists all the different types of sauces!!!  YUM!  Unlimited amount of possibilities here! Also, you need the Chocolate mousse cake in your life. You can walk out of there stuffed spending $6-$8
Blow the Budget
If you are on vacation here then you need to blow the budget at least once. Despite it being a small island, like the rest of the Riviera Maya, Cozumel has some pretty amazing options for fine dining. Here are just a few of my favorites. If you don't want to eat out check out this post we wrote about the private chefs of Cozumel.
10 Experiences of Mexico
This is only for the real foodies out there. You will get a full experience and tour of food and booze from different Mexican states, all with a great video presentation that aids the experience visually. You'll want to travel through all of Mexico after taking part in 10 Experiences but you won't need to because they will have taken you to places that you didn't know existed during your dinner with them.
Make sure you contact them on Facebook for more info.

Alfredo Di Roma Trattoria
Located in Presidente Hotel in the South end of town by the marina Alfredo De Roma Trattoria is an Italian restaurant with excellent food and wine. To go along with that the service is also very good and I'm always appreciative of the ambiance in here. Make sure you reserve your table and if you need a recommendation I almost always go for the lamb chops.
La Cocay
Del Sur Parrilla 
An Argentinian Steakhouse near the plaza has had me excited recently. It's hard to find a good steak here on the island so Del Sur has been really enjoyable lately and I have been eating here more and more.

The Best Burger in Cozumel
You may be in Mexico, but sometimes you just need a good burger! There are three places I recommend getting your burger fix (and no there is no Macdonalds in Cozumel, you have to go to Playa del Carmen for that).
Caribe Burger
They don't have 5* trip advisor reviews on TripAdvisor for no reason. It's just a small place with a local vibe away from the main tourist area, but close enough to walk to. The burgers are great, as are the onion rings.
Pancho Burger
Located just across the street from Westin on the Northside of the island. Their secret weapon is the coconut shake. Seriously, forget about the burger, just go there and order the coconut shake. Then go back the next day because the coconut shake is all you think about… no? Just me?
Pizza in Cozumel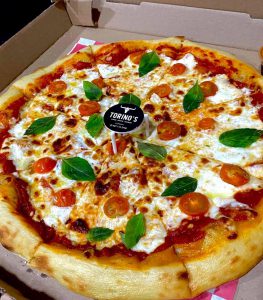 You will find no shortage of places to buy Pizza in Cozumel, but there are only 4 places I'd recommend for you to go. These places have the best pizza on the island. So forget Dominos or Pizza Hut and hit one of these up instead.
Torinos opened in late 2020. They opened up a wood-fired oven Naples-style pizzeria with the freshest ingredients. This is the only place where I'm getting my pizza these days! They are located in Corpus Christie next to the park and church on 17 and 25.
They brew their own beer and make excellent specialty personal pizzas in their wood oven. Need I say any more? Beer and pizza. I highly recommend trying the Lionfish Pizza, it's delicious.
Cozumel Healthy Eats
Located on 11 and 5, Northeast of Mega if you are looking for a healthy option for breakfast or lunch this should be top of your list. They have options for meat-eaters, vegetarians, and vegans. Need something gluten-free? No problem. The food is fresh and delicious and the price is very reasonable. Be sure to order one of their juices and take a browse in their shop before you leave, they have great locally produced products here.
Local Favorites
La Conchita del Caribe
If you want to know where the locals go to eat the best fish on the island then it's here at La Cochinita del Caribe. It closes at 9 pm and it is a popular place to come for a late lunch or early dinner. Weekends it can get very busy, but my 8:30 pm you will be dining alone. Oder the whole fried fish. This restaurant is a little out of the way so you will need transport to get here, it's worth the extra effort.
Las Palmas
Las Palmas is a place in central Cozumel where you can get a good Mexican meal for a cheap price. They always have good specials but failing that you can't go wrong with the shrimp.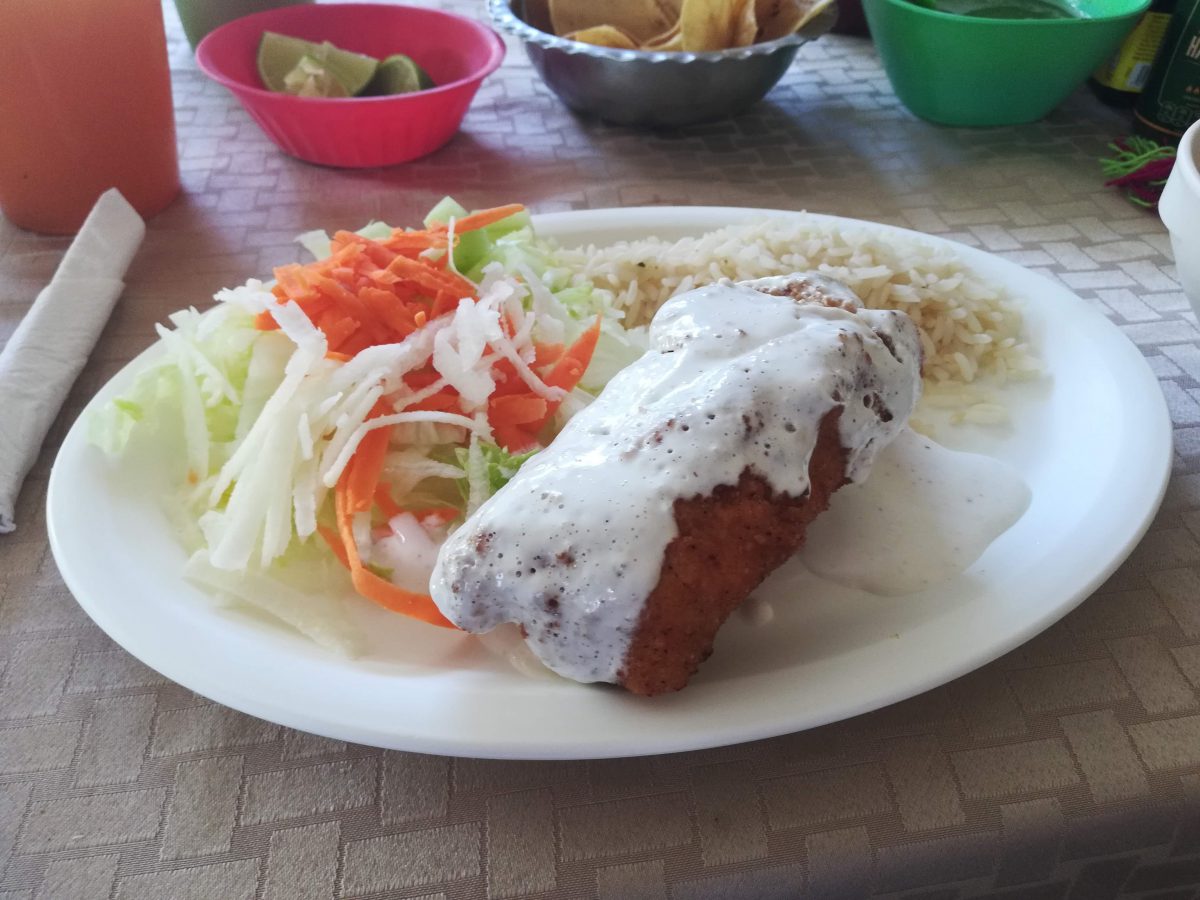 Chilangos
Serving up good honest Mexican food at great prices. Chilangos is popular with locals and foreigners alike. The staff are friendly, they have wifi, and it's not too far out of the center, especially if you have a bike or you have rented a car.
Italian Restaurants in Cozumel
If you have a craving for Italian food then there is plenty of options to choose from in Cozumel. The Riviera Maya has a large Italian community and lucky for us they love sharing their food with us here in Mexico.
La Cucina Italiana
First up is La Cucina Italiana, it's a buffet-style Italian restaurant and makes a great lunch option. Especially if you are trying to get a bite in before your afternoon dive.

K'ooben Laab
If you want to take your Italian dining experience up a notch then head to K'ooben Lab. Everything here is super fresh, homemade pasta, bread, the mozzarella.
New Espacias
New Espacias is a great option for a nice authentic Italian evening meal. All of their pasta is homemade, the chef is Italian, and it is always worth checking out the special menu. New Espacias is well known for its seafood, especially the lionfish. They also have gluten-free and vegan options.
Sports Bars in Cozumel
Dicks Dive
is the best place to watch sports in my opinion. It's located very close to the Plaza. Just a little North walking on 5 from the Plaza. They usually have a rocking band there on Saturday nights that can play a solid 200 rock song covers. So if you're going on a Saturday night be ready to split your attention.
No Name Bar
Located across from the MEGA grocery store. It's an old pub vibe that has nothing but sports on. Less distraction than Dicks but also a bit more expensive.
Indian food in Cozumel
If you are looking for an Indian restaurant in Cozumel then there is just one option.
Bombay Delights
These guys have excellent Indian food. Their buttered chicken has me coming back almost weekly. They can deliver. Great service.
Other places worth mentioning
There are just a few more places worth mentioning on this best restaurants Cozumel list if you are looking for the best places to eat in Cozumel. These don't quite fit into any other category but are 100% worth checking out.
Cozumel Dreaming Sushi –  On 2 and 10. They have a great all you can eat option for under $500 pesos
Chocolateria Isla Bella – This is not your average chocolate shop. They are an artisanal Chocolateria that work with cacao farmers to bring you the best quality Mexican chocolate.