Wondering where to stay in Cozumel? One of the most common things that we get asked about by first-time visitors to Cozumel is where to stay and how to get around the island. It's understandable that it can be tricky to know the best areas to stay in Cozumel unless you have actually been here. It's the same with any unfamiliar location.
There are a lot of great places to stay in Cozumel and I have written some suggestions of places I personally recommend to stay in another article which you can read here. In it, I highlighted some of the best hotels', villas, and boutique hotels in Cozumel to stay at. But I thought this topic needed to be revisited in more depth for a broader understanding of the different areas in Cozumel to help you get a full understanding.
How big is Cozumel?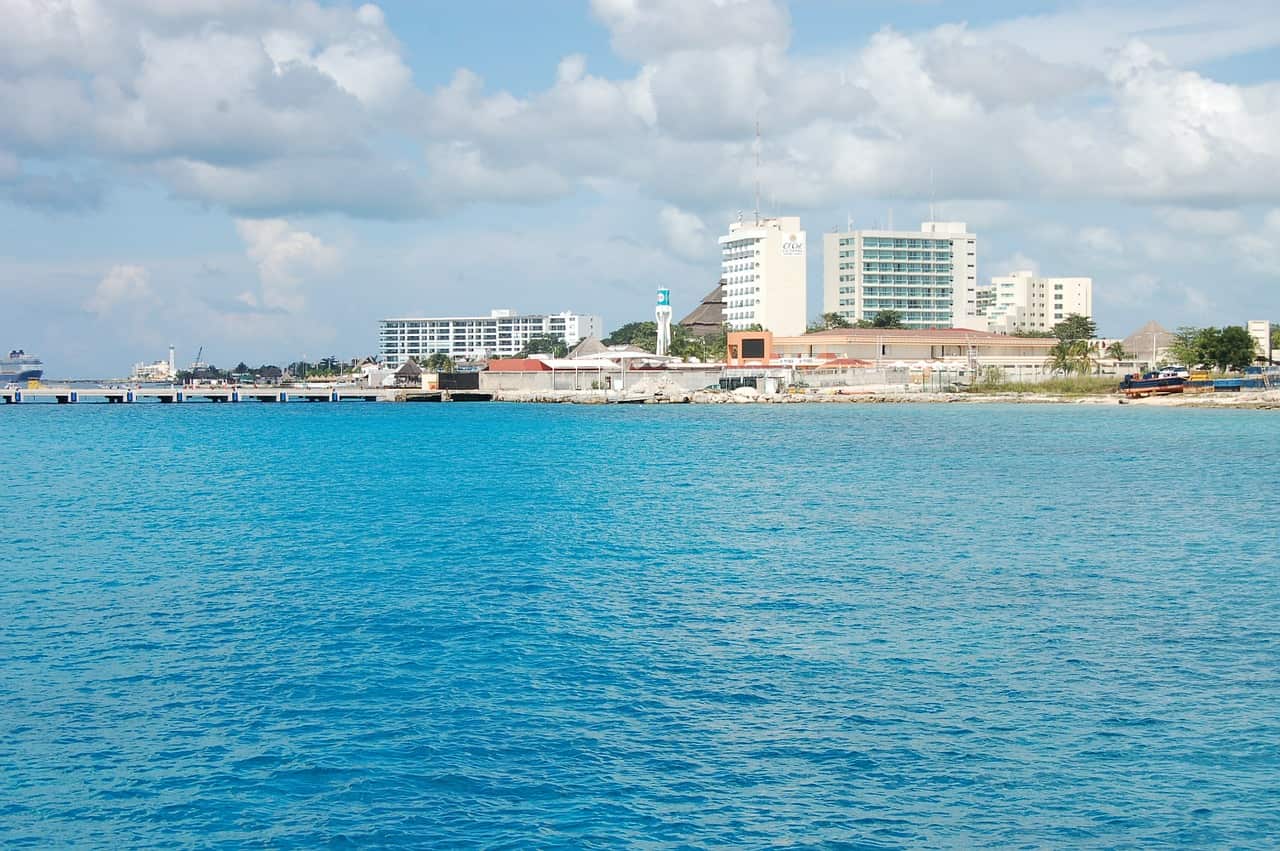 Cozumel is a 478 km² Caribbean Island around 12km off the coast of mainland Mexico. It's actually Mexicos largest permanently inhabited Caribbean island with over 100,000 people living on the island. That doesn't include the tourists that we welcome here on the island each year. Tourism from scuba diving in Cozumel started in the sixties here, so it's taken a long time to get where we are.
There are two movie theatres in Cozumel, multiple supermarkets, and you can even find a Burger King if you look hard enough (sorry there is no McDonalds in Cozumel it closed recently). But that shouldn't even cross your mind as Cozumel has some of the best restaurants in this area so you will be spoilt for choice of dining options, we even have world-class private chefs in Cozumel you can book to cook for you in your condo if you get tired of dining out!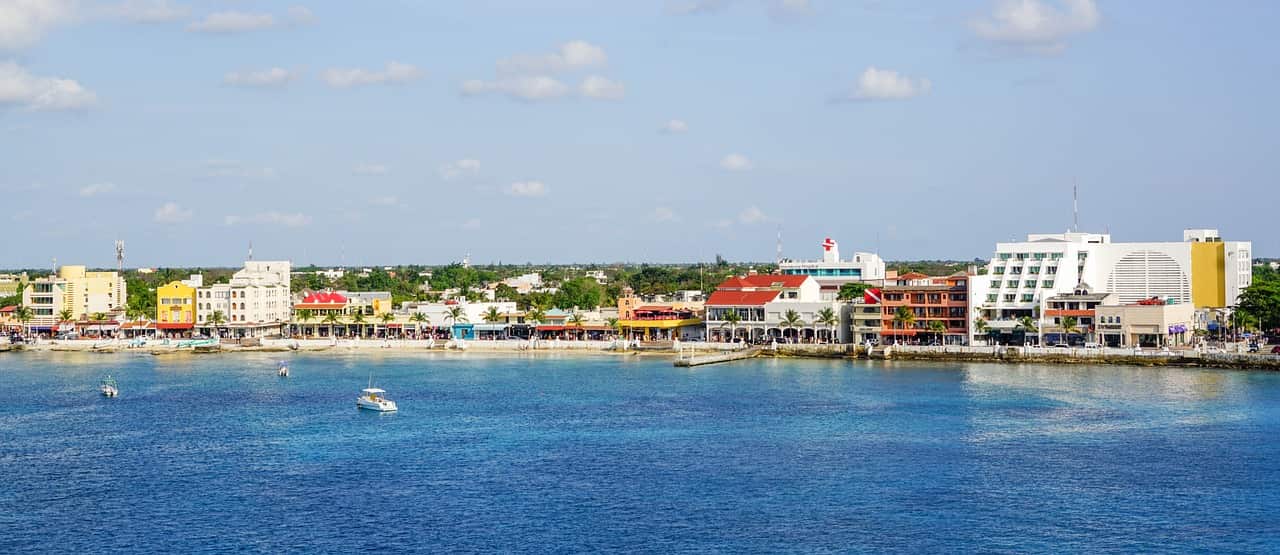 Where to stay in Cozumel Main Road
Cozumel has a "main road" or a highway that loops around part of the island. The loop is 38.5 miles or 62 kilometers. The downtown area of Cozumel is located in the middle of the West Coast of the island. We aren't going to really talk about the East coast of the island although it's fun to do the loop and go check out the "wild side" on at least part of a day while you're here (best to have a rental car).
The West coast of Cozumel is where the majority of tourists stay and dive. We want to think of the Westside as 4 sections. From North to South – The North, Downtown, Cruise Ship Row, and the South.
Almost all of the scuba diving in Cozumel takes place within the marine park in the South part of the island. The famous dive site Palancar is located in the Southern part of the marine park. From Palancar Beach Club to a hotel in the middle of the North part of the island is about 15 miles or 35 kilometers a 35-minute drive by car. By boat, this is about a 50-minute trip.
Staying in The North of Cozumel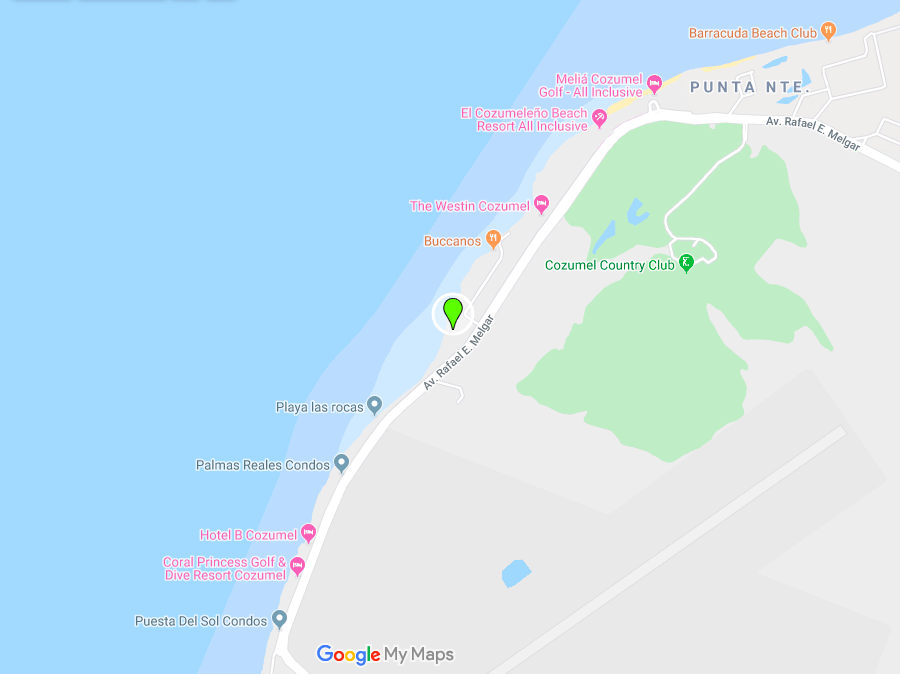 Type of Accommodations in the North of Cozumel
Waterfront condos, small and medium-sized older hotels. Melia is a larger all-inclusive hotel and Hotel B which is a medium to large modern hotel.
What's good to do in the North of Cozumel?
Although it may seem a little far out if you just judge it on the map, there is actually a lot of good things to do in the north. You are close to Buccanos (beach club during the day and arguably the best restaurant on the island for dinner). If you are a golfer then you will love the Cozumel Golf Course. Close by you will also have the popular Hemingway bar as well as La Monina. The north of Cozumel is great if you prefer to be in a quiet area where there is good walking and jogging opportunities (if you can stand the heat of course!). You also have Playa Azul beach here, and of course the Key Lime Pie Factory.
The bad
When considering where to stay in Cozumel. It's probably the worst place to stay if you are planning on diving a lot as it is pretty far from the marine park. There are also limited dining options in this area. Of course, all of this can be solved if you plan on renting a car in Cozumel.
How far are points of interest
Downtown is a 10-minute drive.
Marina Fonatur is a 20-minute drive
Price – $$ – $$$
Staying in Downtown Cozumel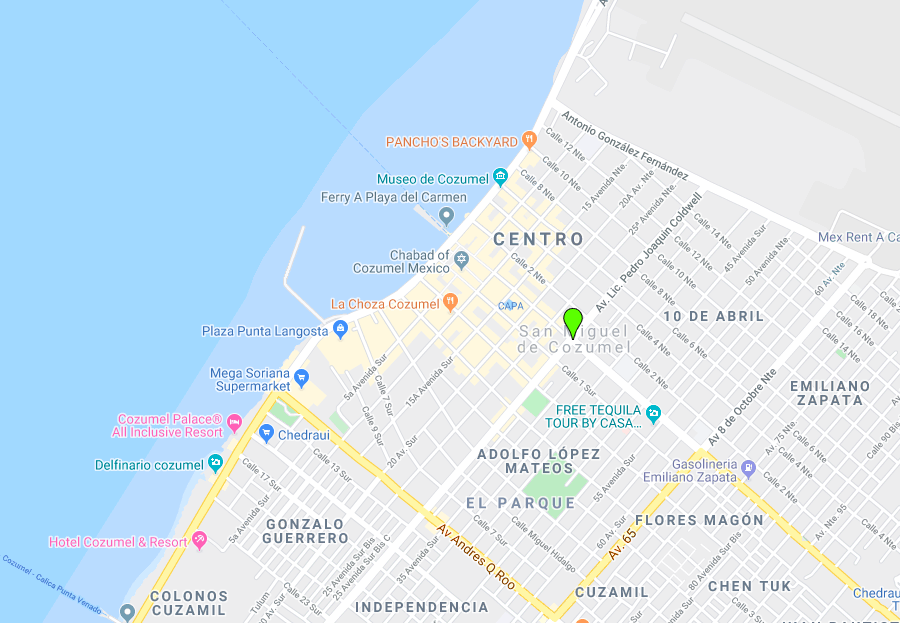 Type of Accommodations in Downtown Cozumel
In the downtown area of Cozumel, you will find Boutique hotels, Airbnbs, El Cantil waterfront condos, Hostels, a few medium-sized hotels.
What's good to do in downtown Cozumel?
If you decide to stay in the downtown Cozumel area then you are going to be right in the thick of it, so to speak. Being in this area is going to make getting around a lot easier without the need for a car or scooter. There are a lot of dining options, nightlife, bars, festivities, shopping, live music, basically everything is on your doorstep if you choose this area to stay in Cozumel.
The Bad
When thinking about where to stay in Cozumel probably the only real downside to staying here is it's likely to be a bit noisy. Especially on the weekends!
How far are points of interest
Golf course – 15 minutes, Marina Fonatur – 12 minutes, Punta Sur – 30 minutes, Mezcalitos – 20 minutes
Price – $ – $$
Staying in Cruise Ship Row Cozumel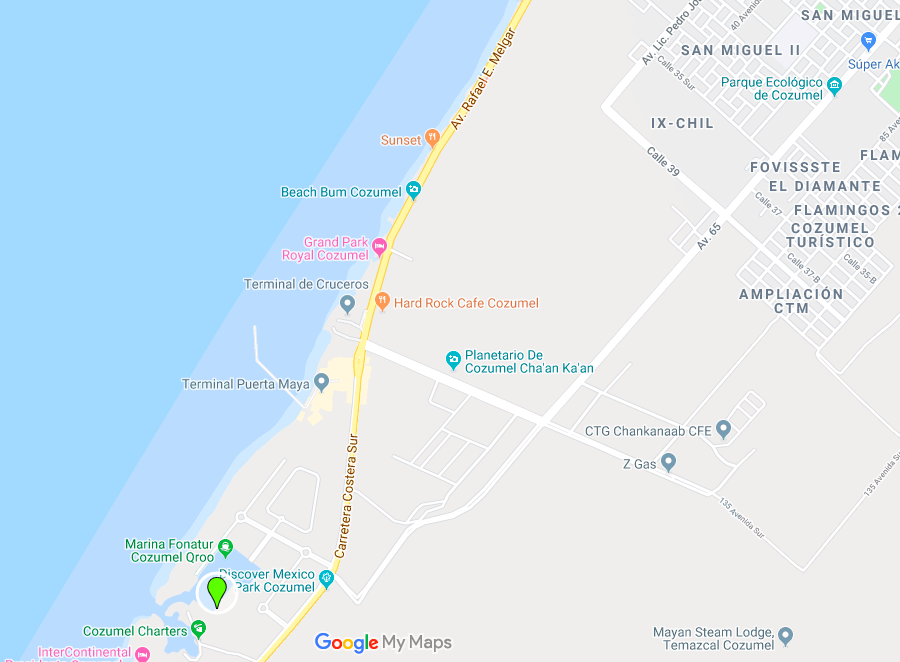 Type of Accommodations in Cruise Ship Row Cozumel
The type of accommodations you are going to find along cruise ship row in Cozumel is medium to large-sized hotels and Palmar Condos.
What's good to do in Cruise Ship Row Cozumel
Cruise ship Row in Cozumel has a bit of a different vibe to other areas on the island as it is very set up for tourists, especially cruisers (of course). But the good thing about staying here is that there are plenty of restaurants, shopping, ATV and island tour companies, and bars. Plus the location is pretty central making is a great place to stay if you want to be able to be more central.
The Bad 
Traffic from cruise ships, more tourists than other parts of the island, cruise ships…
How far are points of interest
Downtown – 5 minutes, Marina fonatur – 5 minutes, Golf course – 25 minutes, Punta Sur – 20 minutes
Price – $$ – $$
Staying in The South of Cozumel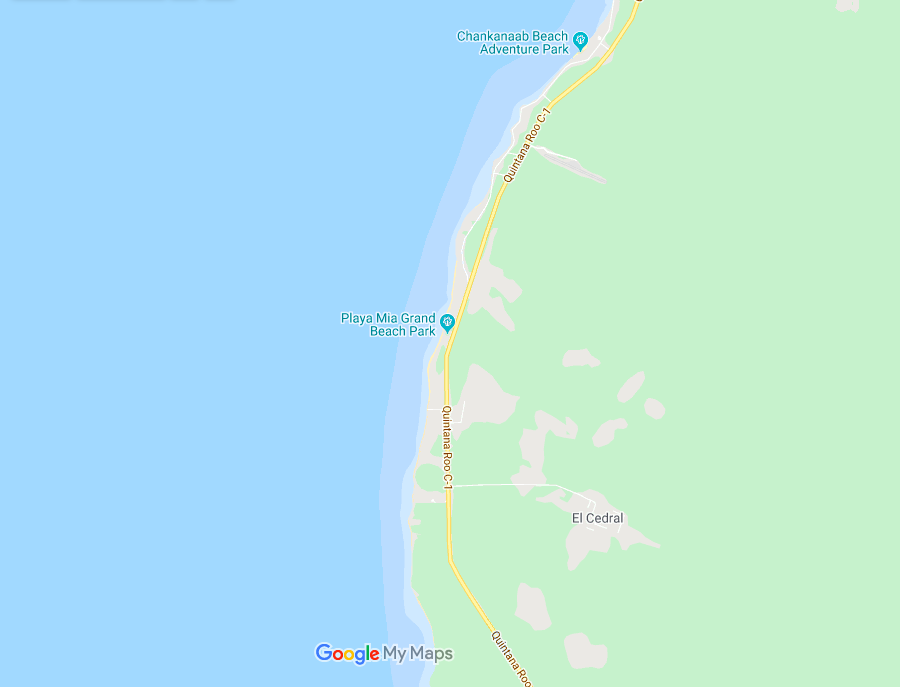 Type of Accommodations in The South of Cozumel
In the south of the island, you will find the majority of large all-inclusive hotels in Cozumel. If you know where to look you can also find some great waterfront condos, houses, and villas to rent in Cozumel as well (I'll give you a clue, look here).
What's good to do in the South of Cozumel
If you choose to stay in the south of Cozumel there isn't all that much to do. But if your idea of a great vacation is diving every day and chilling on the beach with a Mojito in hand when you aren't in the water, then you won't mind! As well as being close to the marine park/scuba, snorkeling, some of the best beach clubs in Cozumel, you are close to the marinas. And lastly, it's oh so quiet.
The Bad
It's pretty far from downtown, and you will have limited dining options, which if you are staying in a resort might not be a problem. But if you are staying in a villa or condo it's worth keeping in mind.
How far are points of interest
Downtown – 15/30 minutes, Golf course – 30/35 minutes
Price – $$ – $$$
There you have it. That is an overview of the areas to stay in Cozumel. Of course, it's not always that simple and you can always find an exception to the rule everywhere you go but I think that's a good rundown of what to expect if you are a first time visitor to Cozumel.
You can never go wrong wherever you stay in Cozumel. The island is beautiful and scuba diving in Cozumel is something that should be in everyone's bucket list. I personally love staying in the downtown area either on the water at Casa Phoenix or at one of the Cozumel boutique hotels like Stingray Villas or at Fulvios.
Thank you for reading and please give it a share!
PIN IT