Looking for the best tacos in Cozumel? We got you covered!
Be sure to give our Best Restaurants in Cozumel article a look while you are here!
Here's our top 6 best tacos in Cozumel recommendations:
Diego's 
El Pezcozon
Miser Taco
Sereno Rooftop
El Sazon
Bebamus
Palomar
Everyone that comes to Cozumel asks about tacos. There are so many taco places here that it would be impossible to list them all. I personally don't have the guts to try the more exotic tacos, like tongue, brains, or intestines, so the only tacos I'm listing are from personal experiences. But you can trust me that they are delicious and I'm positive follow this guide and you will find the best tacos in Cozumel.
Some tips to help you when ordering the best tacos in Cozumel
The first question you will be asked when ordering a taco is, "Con todo?" This means, do you want your taco with everything? "Everything" usually means spicy salsa, guacamole, chopped onions, and cilantro. If you can handle spicy salsa, the best answer is "Sí, con todo." If you are not sure you can handle the spice level, which varies at each taco shop, just ask for salsa on the side. And by the way, pretty much every taco shop on the island has a server who speaks English, so don't worry!
Diego's Tacos Cozumel
Your first stop will probably be Diego's Tacos, conveniently located across the street from the airport. The wisest of all my guests eat there when arriving as well as departing out of the airport. I can't pass Diego's without stopping in for some fish tacos. If you love fish tacos then Diego's really does have the best tacos in Cozumel.
These island fish tacos are prepared west coast Baja-style, full of breaded or grilled fish, and served with amazing salsas, ranging from mild to very spicy. They have a simple outdoor seating area that is covered with green lush vegetation.
"El Pezcozon"
El Pezcozon is a seafood lover's dream, so you might come here for more than the tacos. The restaurant is 100% Cozumeleño, all dishes are derived from family recipes. They are a local establishment that only the savviest travelers know about.
You want to make sure you show up early in the afternoon so you can have the freshest catch of the day. They are open Tuesday through Sunday from 11 am – 6 pm. And by the way, if you like octopus, the Minerva is something special. All fresh every day.
Their location is a little out of the way, but any taxi driver will know the spot. It's a great chance to get an authentic, local experience, less than ten minutes outside the city center on 40th Avenue and Calle 10.
Mister Tacos
When you visit Mexico, you have to eat Al Pastor tacos at least once. Tacos al pastor are made of a specially prepared pork that is cooked vertically on a spit over an open flame, middle eastern style! In fact, they were invented by the Lebanese immigrants that settled in central Mexico a century ago. Later the local shepherds (pastores) adopted this method of cooking meat on a spit out in the country, thus the name al pastor (shepherd's style).
You can't miss these large spits with a mountain of meat displayed in the front of the taco joints. There is a huge debate about who has the best Al Pastor tacos and I believe it is Mister Tacos. However, a lot of people say El Pique, so just to be safe so you don't miss out on trying the best tacos in Cozumel, try them both! By the way, both El Pique and Mister Tacos are open late, a perfect spot for a "second" dinner.

Sereno Rooftop
For a different taco experience, try this upscale rooftop restaurant overlooking the sea. It's relatively new to Cozumel and has become a favorite amongst locals and ex-pats alike.
There are plenty of things on the menu that will distract you from some of the best tacos on the island. Focus on the brisket tacos. Do not deviate from the brisket tacos. Remember, brisket tacos.
Sereno Rooftop is located just south of Villa Blanca Hotel. Enter the Albatross Hotel and climb the stairs to find the restaurant on the rooftop.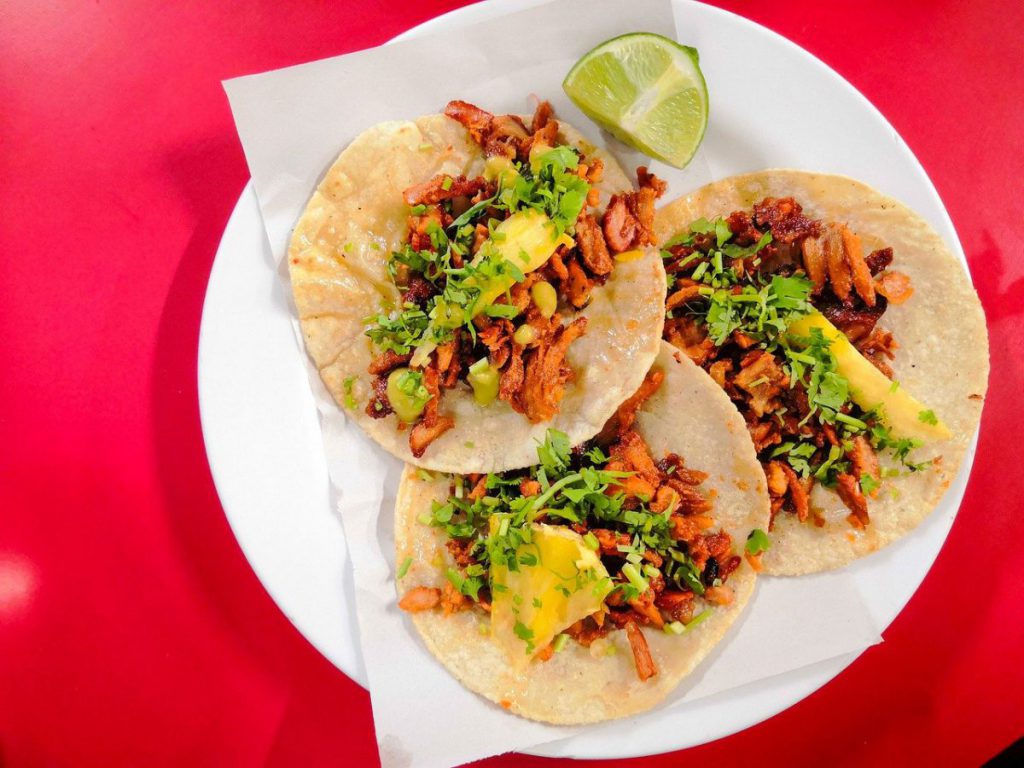 El Sazon Del Camarón
El Sazon Del Camaron- 'The Seasoning of the Shrimp' – is a great daytime seafood restaurant that's popular with both tourists and locals.
They serve tacos and tortas (bread roll sandwiches), made with grilled or breaded shrimp, fish, octopus, and much more. Also, try the ceviche prepared with their tasty "secret" marinade. You can come and get an early start with El Sazon Del Camaron, dine in or have an order to go for later in your day. They are open from 8 am Monday- Saturday 8 am – 3:30 pm, and Sunday 7 am- 4 pm.
El Sazon Del Camaron is a bit out of the way but worth the time finding it, located on the transversal road and 55th avenue. Coming from downtown you'll spot it on your right. All their tacos are overflowing with fresh fish, so you won't regret the trip.
Bebamus
Wait! One more spot you have to try: Bebamus. This time I recommend the birria tacos, a very traditional recipe of braised meat cooked slowly over hours and seasoned with salts, garlic, and ancho chiles. It is served in a warm stew-like bowl with homemade corn tortillas, and you make your tacos yourself at the table. These tacos are so heavenly you will be dreaming about them afterward.
Bebamus is another new spot downtown on 5th avenue and Calle 3 with a lovely interior courtyard, a very friendly staff, and live music several nights a week, open every evening except for Tuesdays.
Alright, that should keep you well-fed for at least a week. Buen provecho!
Palomar
Palomar restaurant located on Melgar and 10 has a Pork Belly taco that will melt your face off! Get ready for a taco packed with flavor and what's better than pork in Cozumel and the Yucatan? Nothing! It's what the Mayans do best.