Looking for the best Sunset In Cozumel? Is there anywhere in Mexico like Cozumel at sunset? we don't think so. Beloved for its warm weather, variety of restaurants, epic scuba diving, and crystal clear blue Caribbean water, Cozumel is the kind of place you come to visit and never want to leave.
Locals know there's even more to this place than scuba diving, and one thing Cozumuleños never take for granted is watching the sun melt into the sea every evening. Because Cozumel is an island, it's one of the few places in the Yucatan peninsula to enjoy a sunset on the beach.
Avenue Rafael Melgar
One of our top spots to watch the best Sunset In Cozumel is Melgar Avenue. This is the oceanfront road that runs north to south on the island. Lined by a lovely boardwalk called the malecon, it might be the best place to watch a sunset in Cozumel because it is free!
At the end of the day, walking along Melgar is a local pastime. You'll see families strolling with their children and pets, cyclists, rollerbladers, and runners. For the most refreshing way to watch the sun go down, hop off the Malecon and jump into the warm water. I have to admit it's pretty romantic to be in the water with someone special during sunset in Cozumel.

Hemingway's
Hemingway's has an amazing energy that gives off a Tulum vibe: chic, alternative, and chill. Right on the waterfront, check out their cool wooden structures perfect for selfies on Instagram.
Hemingway's has just remodeled their outside seating area which now resembles something out of a luxury wedding photoshoot. You can reserve private cabanas for $100 USD, and the fee is applied to your food and drink tab.
Once the sun dips beyond the horizon, Hemingway's turns into one of Cozumel's best places for nightlife with dancing and a DJ playing electronic music.
Hemingway's is located just north of downtown, on Melgar Avenue. It's an easy ten-minute walk from the ferry or a smooth bike ride from anywhere in town. There are plenty of places to park your moto or lock your bicycle, so you can fully immerse yourself into the sunset. Watch out for the mosquitoes, though!
La Monina
La Monina will take your breath away with stunning views of the Caribbean. You can literally sink your toes in the sand with a drink in your hand at their beach level area downstairs, or enjoy the breeze from their authentic palapa deck upstairs. That's why it made our best Sunset in Cozumel list.
The upstairs deck is an ideal place to capture all the different shades of blue for that perfect photo, so don't get distracted by their excellent happy hour and friendly servers!
Near Hemingway's, La Monina is also located on Melgar Avenue just north of downtown.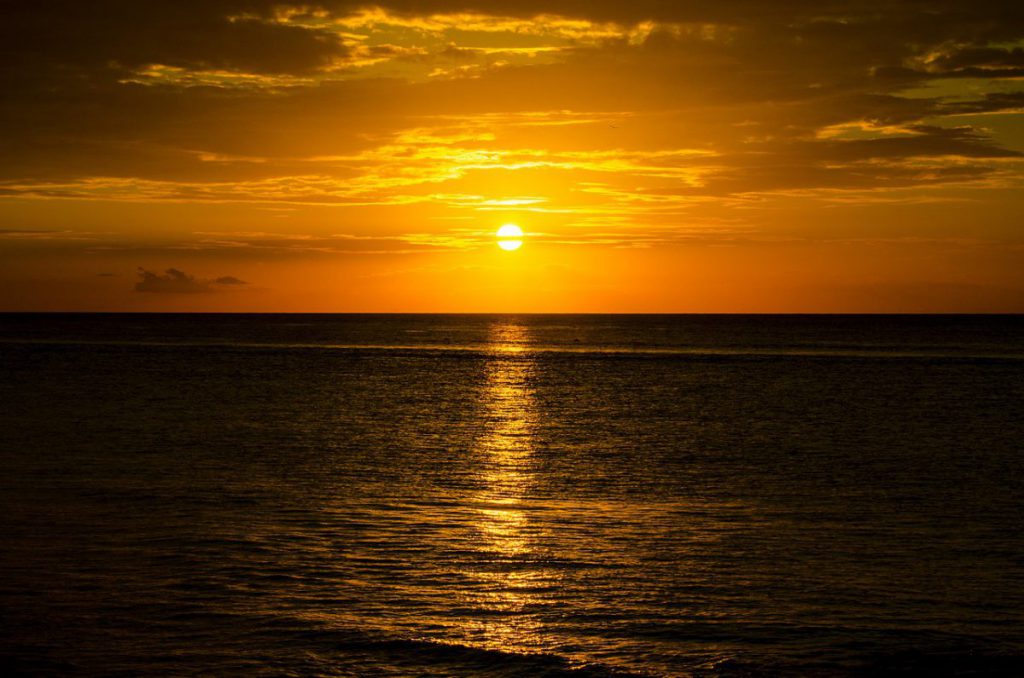 Monkey Beach Cozumel
A perfect place to monkey around, this small beach club was created by one guy with a lot of hustle and determination when he had nothing during the pandemic. This sandy spot right on the water is located below the road, giving it a secluded, private feel.
No shoes, no shirt, no problem here! And the sunset always coincides with their 5pm to 7pm happy hour–funny how that works out! They also have their own dock so you can wander to the end with an up-close and personal view of the sun slipping into the sea.
Monkey Beach is south of the city center, across the street from Villa Blanca Hotel, next door to Carlota's.
Carlota's Beach Club
Carlota's Beach Club is known for "the best beach vibes in Cozumel." You have the choice of two levels. Down on the beach level, this is a perfect playground to relax on a chaise lounge, jump off the dock, and your kids can even enjoy a kiddy pool. Or head upstairs to the bar area that serves ice-cold buckets of XX beer (10 for only 150 pesos!) and lots of other fine cocktails. Carlota's is located right next to Monkey Beach and across the street from Villa Blanca Hotel.
Now you know where to find the best sunset in Cozumel! Make sure you share your sunset photos with us by mentioning @scubatonycozumel in your Instagram posts. We are dying to see them.
Some honorable mentions for the best Sunset in Cozumel that I can't leave out are:
Buccanos at Night (for an excellent dinner and a sunset)
Playa Azul
Hotel B
La Inombromble (must be seated on the balcony)
Novena Ola